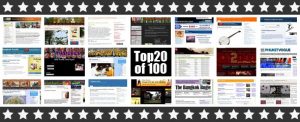 Matt Vanalli, a Phuket-based journalist, spent a couple of weeks to compile a list of the top 100 Thailand-related blogs, and here comes the surprise – we're in it!
Although Lifewonders is near the bottom of the list, I'm still surprised that we even made it, considering that popularity is such a low priority for us.
The list features some familiar names and some newcomers as well. I checked out some of the more promising new ones and I was delighted to find some quality content from apparently like-minded people.
Check out the full list at Thailand's Lost Boy.